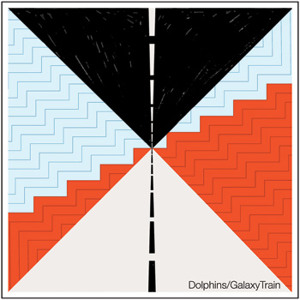 Frankie Avalon and Annette Funicello would be proud of the surf rock trend that has reemerged in contemporary music. While it may not be the classic pop sound that soundtracked their parties in the 60's, it still brings about that same sense of excitement and fun that corny movies such as Beach Party would portray.
Today's surf rock is not the ideal music to dance either The Monkey or The Twist. It's a little sharper and grittier, with the distortion turned up and the production usually providing a mood that is more fit for a garage than a beach. Enter Dolphins from Gold Coast, Queensland along the eastern coast of Australia. Living right on the Pacific has obviously saturated these guys with the beach life, providing a fluent mix of the classic rock feel with more modern styles of garage rock. All of their songs are excellent exposés on the fun side of surf rock, with a pinch of punk snark, a dash of Chuck Berry style solos, and the occasional soft strum song that summons a psychedelic vibe.
The band currently has two EPs available on Bandcamp, Galaxy Train (free) and Happy Being Slippery (cost), that are sort of contrasts to each other. The former is a little more chill. The kind of music that you'd pop in while the tide rolled in. The latter is charged, fast, and loud – much more tilted toward the garage rock/punk side of things, specifically with the snarl that can be heard in the vocals.
This trio knows how to get their point across. Whatever sound you're looking for,  you'll be able to find it in no time flat with all of the songs clocking in at under three minutes. With both EPs running at about 10 minutes a piece, there's really no reason not to listen to them again and again. This is summertime fun released in convenient small bursts. In "Mission," Dolphins sing that it's their mission to make you feel good. They get the job done, and get it done well.
Connect with Dolphins: Facebook | Bandcamp | Soundcloud | MySpace
Dolphins // Galaxy Train [mp3] from Galaxy Train EP
Dolphins // Mission [mp3] from Happy Being Slippery EP